Why did you decide to study in the United States?
My father went to college in South Carolina, and he always told me how American universities are different from the universities in Brazil. The things that he said to me had a huge impact on my decision to move out of my country.
Why did you choose Arizona State University?
I chose Arizona State University because of the weather and its reputation. The location is also very special. Arizona is unique because we have the best of both worlds. Even if it's winter in the United States in January, Phoenix remains hot, but in northern Arizona, it snows, and it's cool to be able to go skiing on the weekends.

What do you like best about your program?
Global Launch is much more than just an English program. In addition to English classes, you can take courses in business, engineering, science and more.
What do you miss most about home?
I miss my family and friends.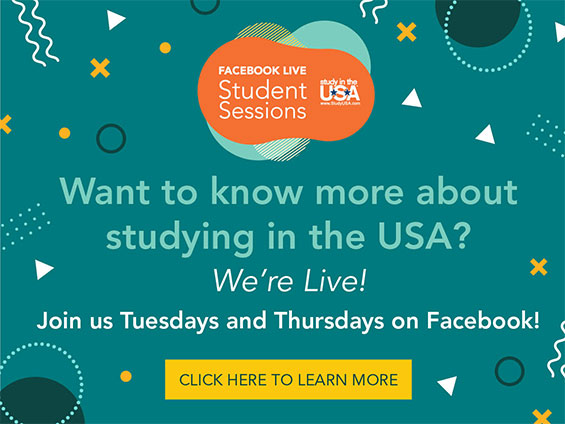 What was your biggest surprise about U.S. life and education?
My biggest surprise about U.S. education is how accessible the professors are. They have office hours available to students, and every time you have a question, you are welcome to go to their office and ask.
... your biggest disappointment?
I didn't have disappointments. I had challenges that I was able to overcome, such as homesickness and cultural barriers.
How have you handled:
... language differences?
In the beginning, it was hard. But I had friends from all over the world who had to handle language differences as well, and we helped each other.
... adjusting to a different educational system?
The main difference between the educational systems of Brazil and the U.S. is homework and the time you spend attending classes. In Brazil, we are in the classroom for 6–9 hours a day, and we don't have a lot of homework. In the U.S., it's the opposite. You spend less time in the classroom, but we need to do a lot of homework. In addition, in the U.S. you are expected to be an independent learner and very aware of your responsibilities
What are your activities?
Global Launch offers several day trips to places in Arizona, such the Grand Canyon, Sedona, and Tucson. There are basketball and football games, and I go hiking a lot.
How easy or difficult is making friends in the USA?
In the beginning, it was difficult because of the language barrier, but all the activities outside the classes helped me overcome this barrier. I had to speak in English not only in the classroom, but also outside as well, and that made it easier to make friends.
What are your career goals? How is your U.S. education relevant to your personal goals and to the needs of your country?
My career goal is to make an impact in Brazil, my home country, especially in the education field. My U.S. education will help me reach my goal because I was able to meet people from all over the world and learn about different cultures.
What is your advice to other students from your country who are considering a U.S. education?
Just do it! Studying abroad is a unique and rewarding experience that offers you the opportunity to grow academically and personally.