Travis Drageset is the 2017 MAGGIE Award Winner for Best Use of Social Media/Trade. An award that is justly deserved if you go by what she has accomplished as the Marketing & Social Media Specialist in charge of Study in the USA's social media presence.
Travis took Study in the USA's Facebook followers from just around 1,000 to over 550,000. And she did this all through organic reach. That is an amazing feat given how difficult it is for most businesses to generate follows much less engagement on the levels that Travis has managed to sustain.
Social Media Strategy is an integral part of any business model. It helps to support and validate your business. When done right, as we see with Travis' work, it can lead to an active brand focused on its core audience, and drive engagement.
Travis has shown that she is a terrific marketing and social media strategist. Let's have a quick chat with Travis and see how she grew Study in the USA social media presence, what her strategies for success are, and how she plans to top her MAGGIE awards accomplishments in 2018.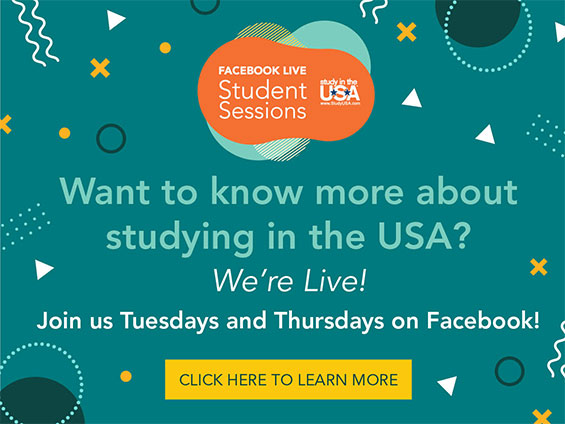 What are your main strategies for success when doing social media?
I try to always remember that what makes or breaks a social media page is whether or not it incorporates two main ingredients: quality + heart. There are no quick fixes or tricks for success. You have to put the time in.
What were three things that you consider made the difference in the social media growth of Study in the USA?
2) a roster of smart, creative and fun student bloggers
3) quality programs to highlight
Study in the USA appeals to an international audience. How did you use that knowledge in crafting your content strategy?
By choosing content that's truly of interest to international students. I learned early on in my management of StudyUSA's social pages that internationals who have not yet come to the US to study want to know 2 things: 1) what it's like to study in the United States, and 2) how to get there. They're not all that interested in pop culture or sports, but they love seeing photos and watching videos of students similar to themselves doing what they aspire to do. And they want the nuts & bolts of how to apply to schools, what tests to take, and how to get their visa.
We are told that you have a "terrific sense of humor". How do you use this in the marketing and social media services for Study in the USA?
When sharing content and stories about what it's like to study in the US, I try to keep things light. If the East Coast is being hit by a blizzard, I post about the fun side of that. Internationals love snow!
You also work with a non-profit, Shatterproof. How do you approach content and social media for Study in the USA versus a company such as Shatterproof?
StudyUSA's audience is very specific and at the same time incredibly diverse. So for an audience like that I try to find what's universal in the quest to make a better life for oneself. A desire to learn and be fully engaged in new experiences and compelling subject matter, as well as a need to have fun and blow off steam are universal to students in their teens and 20s.
Bots are now a big thing in social media. How do you intend to use them in Study in the USA's social media strategy?
StudyUSA bots will bring students the resources information they're looking for quickly and efficiently.
You have been nominated before for MAGGIE awards. How does it feel to be the 2017 winner?
It feels fantastic! And it's a great reminder that hard work will bring rewards.
What are your plans to top 2017's achievements?
To bring fresh, new points of view onto the social media team.
What has been the most memorable comment from a student helped by Study in the USA®?
For me it's more a cumulative thing – in my five years of managing StudyUSA's social platforms, I've been amazed by the positivity. Responses by internationals who may not ever be able to come to this country to study are time and again full of excitement and support for those who have. It's pretty astounding. Negative comments are almost non-existent.
Why should students study in the USA?
In order to gain a broader point of view, and to experience the diversity and resources this country has to offer.