Scholarships: money for school that you don't have to pay back. The appeal is undeniable. And for many students, scholarships are an absolute necessity in order to realize their educational dreams. Fortunately, many colleges and universities offer scholarships to international students.
First, it's important to realize that a scholarship may not cover all of your tuition and most certainly not all your expenses. Scholarships that do are known in the U.S. as "full-ride scholarships." Obviously, these are the most sought after scholarships, and with that, the hardest to get.
Even American students may need more than one scholarship in addition to personal financial support and grants. This makes financial planning and budgeting all the more important, even if you do receive a scholarship.
"Fortunately, my parents and family support me [financially]. Also, I try to manage and control my expenses. I have the opportunity to receive a scholarship and to work on campus, and these help me a lot," explains Abraham Martinez Ornelas, an international student from Mexico studying at the University of Texas at Austin.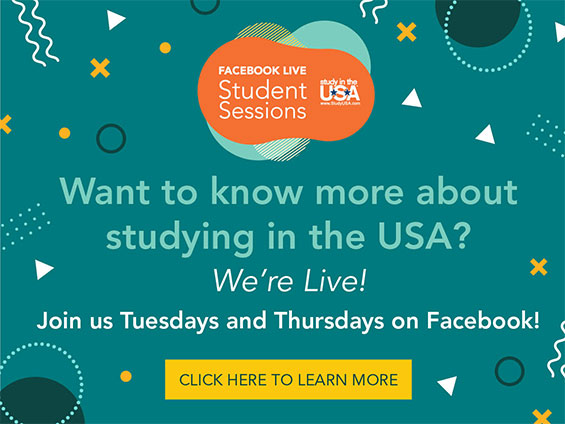 There are different types of scholarships offered to international students by U.S. colleges and universities. The two most common are merit and need-based scholarships:
Merit-based: These scholarships are offered to students with outstanding grades, test scores and/or individual accomplishments in areas such as service, athletics, arts and many more.
Need-based: These scholarships are offered to students who do not have the financial means to pay for tuition. Eligibility is based on the evaluated finances of the student and his or her family.
In addition to merit and need-based scholarships, there are many unique scholarships with eligibility based on your country of origin, area of study, community service, gender, level of study, as well as many other areas.
When doing your research look for information at the university's financial aid office. Although more and more American colleges and universities are offering scholarships to international students, it's important to study the details. Some schools only offer scholarships to international students who are current students or have completed one year of study at the school. Other universities may offer scholarships to incoming non-students.
"I intend to concentrate fully on my studies in order to receive a scholarship from the school," says Nhi Tran, a current international student at St. Cloud University.
Applying for a scholarship through a college or university may be as easy as applying for admission. Other schools may require you to write a personal essay or complete an additional application. One thing a legitimate school will never do is charge you to apply for a scholarship.
Below is an example of not only the unique types of scholarships offered by a U.S. university to international students, but also the application procedure. Remember, every school will have different opportunities and application guidelines.
Virginia International University
Virginia International University (VIU) offers a unique opportunity to acquire an excellent, multi-disciplinary education at an affordable cost by offering students access to scholarships. VIU has been attracting individuals who take their VIU experiences into their own cultures, share their knowledge with future generations, and launch successful careers. Thus, there are several different types of scholarships available based on exemplary personal skills, academic achievement, extracurricular participation, on-campus work, and residency.
Students must apply for admission to Virginia International University before they can be eligible for any scholarship. First semester undergraduate and graduate students, as well as currently enrolled VIU students, are welcome to apply for a scholarship.
Application steps
To apply for a scholarship, students must follow these steps:
New students: Apply for admissions at Virginia International University
Browse the scholarship opportunities
Choose up to two types of scholarship
Review the requirements for the scholarship application
Apply online (student portal or application portal)
Upload your documents via applicant portal or student portal.
Once the application form and all the supporting documents are received, the student will receive a confirmation via email.
Who is eligible?
Virginia International University undergraduate and graduate students who are studying full-time are eligible to apply for a scholarship if the scholarship requirements are met. Also, prospective students have the chance to apply for scholarships during their application process for admission to VIU.

Document Submission:
Each scholarship has different document requirements. All submissions must be scanned, color copies of the original document. Samples of these documents may include transcripts, diplomas, certificates, and test scores. Photocopies are not considered acceptable documentation. If any document is issued in the applicants' native language, they must provide both the original document and a translation of the document in English. Translated documents must be notarized.
Virginia International University has several Scholarship opportunities for prospect and current students Please see below VIU Scholarship opportunities.
Scholarship
Eligibility
Award
Who can Apply?
Transfer- In

Studied as a full-time student at an accredited university in the U.S. (not VIU) for at least one semester.
3.00 (on a 4.0 scale) cumulative GPA

$500 – per academic year
Applicants
Special Achievement

Show excellence and experience related to a demonstrated talent, achievement and/or career field.
3.00 (on a 4.0 scale) cumulative GPA

$700 – $3,000 - per academic year
Applicants/Current Students
New Horizon

Must be living in areas where there is either a recent natural disaster or civil unrest

$1,000 up to full tuition – per academic year
Applicants/Current Students
Regional Scholarship

| | | | | | | |
| --- | --- | --- | --- | --- | --- | --- |
| Regional Scholarships | Number of scholarships | Amount | Required GPA | English Proficiency Score | | |
| | | | (on a 4.0scale) | TOEFL (iBT/pBT) | IELTS | PTE |
| The Best of[REGION] | 1 | Full tuition | 3.5 | 90/577 | 6.5 | 64 |
| Faces of[REGION] | 2 | Half tuition | 3.0 | 79/550 | 6.5 | 59 |
| Step Up | 5 | $1000 | 3.0 | 75/540 | 6.0 | 56 |
| Welcome | 10 | $500 | 2.75 | 70/525 | 6.0 | 53 |

$500 up to full tuition for one academic year
Applicants
Student Activity

Must have achieved the silver or gold level in the VIU Leadership and Mentorship Program.
A minimum 3.00 (on a 4.0 scale) cumulative GPA

Up to $1000
Current Students
Dean's Scholarship

Must be enrolled as a full time student (3 graduate courses; 4 undergraduate courses).
3.70 (on a 4.0 scale) cumulative GPA

$2,000 - per academic year Current Students Presidential Scholarship
Current Students
Presidential Scholarship

Must be enrolled as a full time student (3 graduate courses; 4 undergraduate courses).
3.90 (on a 4.0 scale) cumulative GPA

$4,000 up to full tuition - per academic year
Current Students
Campus Employment Scholarship

Must be enrolled as a full time student (3 graduate courses; 4 undergraduate courses).
Must be working on VIU campus a minimum of 16 hours a week for at least 8 continuous weeks.
3.00 (on a 4.0 scale) cumulative GPA requirement.

| | | |
| --- | --- | --- |
| Semester | Graduate | Undergraduate |
| 1st semester | $600 | $500 |
| 2nd semester | $1,200 | $1,000 |
| 3rd + | $1,800 | $1,500 |

Current Students