Looking for a university in the States? Check out what Boston has to offer!
Prudential Tower, the Charles River, and north Boston from above
When it comes to immersing yourself in United States history, there are few places more iconic than Boston. Located in the Commonwealth of Massachusetts, Boston attracts nearly 20 million visitors each year for its historic landmarks, culture, entertainment and universities. Fondly referred to as Beantown, Boston is the largest city in New England, with 4.5 million people living in the metropolitan area. With more than 100 universities in the area, students from around the world are drawn to Boston every year.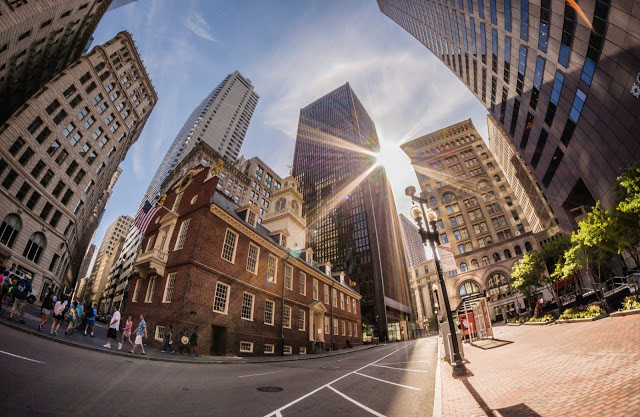 The Old State House and the Freedom Trail in downtown Boston
Want to find out more? Here's a deeper look into all that you can do in one of the most historic cities in the United States:
Immerse yourself in history
Founded in 1630, Boston is one of the oldest cities in the United States. The city was the scene of several key events during the American Revolution, such as the Boston Tea Party. You can still see many of these sites today – just by following the Freedom Trail! This route leads you through 16 historically significant locations, including museums, meetinghouses, churches and burial grounds.
Faneuil Hall Marketplace, built in1742, near Boston's waterfront
Want to take a walk through one of the most historic neighborhoods in Boston? Check out Beacon Hill. Situated in the heart of Boston proper, the neighborhood is known for its beautiful homes, brick sidewalks and deep history.
Acorn Street on Beacon Hill
Enjoy world-class entertainment
Boston has entertainment for everyone, no matter your interests!
The crowd at Gillette Stadium, home of the New England Patriots
For the sports fanatic, Boston has four major North American professional sports leagues, so there's always a game to catch. These teams include the New England Patriots (American Football), the Red Sox (Baseball), Celtics (Basketball) and the Bruins (Hockey). Boston is also one of only six cities in the United States to have won national championships in each of these major sports leagues.
Music lovers flock to Boston too. The Boston Symphony Orchestra is a member of the "Big Five," a group of the greatest American orchestras. Symphony Hall is home to the Boston Symphony Orchestra, and is thought to be one of the best venues for classical music in the world.
At George Washington Monument in Boston Common
Boston also has one of the most well-reputed park systems in the nation. Boston Common, located near the Beacon Hill neighborhood, is the oldest park in the United States. In fact, it is part of a string of parks surrounding the city called the "Emerald Necklace." Other parks in the Emerald Necklace include Jamaica Pond, Boston's largest body of freshwater and Franklin Park, the city's largest park and home of the Franklin Park Zoo.
Northeastern University
Take advantage of the educational opportunities
Some of the most renowned universities in the United States and the world are located in Boston. A few of the most famous institutions include Harvard University, the oldest university in North America, Massachusetts Institute of Technology (MIT), Boston University and Brandeis University. The city also has more than 100 other universities and smaller colleges to fit the needs of any prospective student.
A university crew team practicing on the Charles River
Find a home in the city
Boston offers many housing options. If you want to live off-campus, ApartmentSearch.com is a great resource for finding apartments in the area you want to live. You can search an apartment in your ideal neighborhood, while also viewing helpful statistics on the cost of living, information about local restaurants and shops, the length of your commute and more.
Boston's North End
If you're looking at unfurnished apartments, furniture rental is a cost-effective and hassle-free way to furnish your home-away-from-home. CORT, the leading provider of furniture rental in the U.S., furnishes thousands of student apartments with furniture and accessories, with rental packages starting as low as $99 per month.
Beacon Hill in the snow
Boston fun facts:
Boston built America's first subway, the Tremont Street Subway
Fenway Park is the oldest original Major League Baseball stadium still in use
Boston was home to the first chocolate factory in the United States
The city's nickname, Beantown, is due to the popularity of baked beans in molasses among its early residents
15.1 percent of Bostonians walk to work, the highest percentage in all of the U.S. major cities
Boston street signs
If you're interested in living in a vibrant, historic city, consider Boston! If you think Beantown is the right fit for you, take some time to do some more research on all that this city has to offer. And, be sure to pack a warm coat! Boston is known for its cold, snowy winters.
Written by
by Yu Wu and CORT
Get matched to the best program for you
Let us know what you're looking for so we can find the best school for you.
$1,000—$5,000 Session
Bachelor Degree
English Programs
Online
$25,000—$30,000 Semester
Masters
English Programs
Bachelor Degree
$35,000—$40,000 Year
Masters
Summer
Bachelor Degree
Typical cost per Year: $10,000 — $15,000
Bachelor Degree
Certificate/Short Term
2yr/Community College - 2+2 Programs
Typical cost per Quarter: $5,000—$10,000
Bachelor Degree
Secondary/Boarding
Certificate/Short Term
Typical cost per Semester: $15,000—$20,000
Bachelor Degree
Masters
Certificate/Short Term
Start your U.S. adventure with Study in the USA
What's your dream? We can guide, advise, and connect you with your perfect U.S. school. We can also help you with the application process.
Partner Services
Learn About U.S. education financing, housing, and more
Introducing the K-12 Inbound Tuition Insurance Plan – your comprehensive solution to safeguard students' tuition, housing, and travel costs when coming to the US for education. Our plan covers unforeseen withdrawals, protecting your investment and en...
STUDENT.com is the world's leading marketplace for international student housing, helping students find their perfect home abroad. We have the widest and most carefully selected range of rooms that were built and are managed specifically for students...
Study in the USA's advisors can work with you to navigate the requirements to study abroad in the USA, UK, Canada, and Australia. We help you find the right school and apply.
Testimonials
Study in the USA helped me by providing information regarding fees and courses of the various universities I was interested in.
Sai Madhav Raju Goriparthi India
Study in the USA was helpful to find information about colleges and feedback from other people.
Maria Alejandra Osorio Betancur Colombia
Thanks for studyUSA! Throughout this excellent website I found the right college from thousands of schools in America and I got it eventually! This website helped my college dream being come true and helping me build my future career a lot! Especially the employees over there always email to me to ask my process of applying and so friendly, Thanks so much!
Resources
Learn about American culture and education direct from our experts at Study in the USA. Read more