Why did you decide to study in the USA?
The Brazilian government offered a full scholarship for selected undergraduate students, including the possibility to attend an intensive English course; I thought that was a great opportunity to improve my English and to expand my knowledge in science in a country that is much more developed economically and scientifically than Brazil.
Why did you choose Susquehanna University?
It was not completely my choice; being part of the scholarship program means that the program assigned us to the host university according to our field of study and interests. Besides that, I think the small campus is similar to my home institution, and Susquehanna offers the classes that I said I was interested in my application, as well as the topics in undergraduate research. That, and the location (northeast) may have been factors that helped me to be assigned to this institution.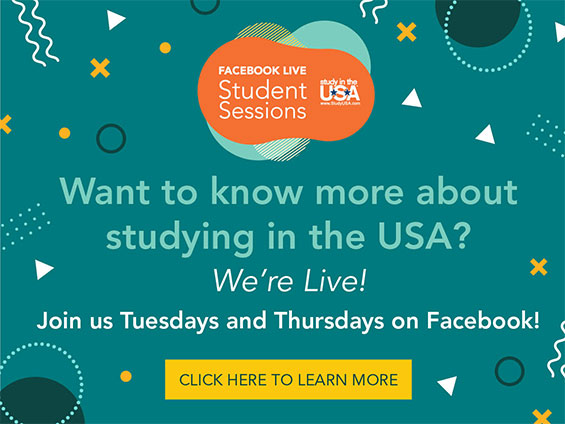 What do you like best?
The small university environment helps to make the students closer to the academic staff.
What do you miss most?
The daily routine with my college friends and family. And Brazilian food!
How has this program helped you to handle future study at a U.S. university?
I've been studying in Susquehanna for seven months now and my English has improved considerably with the everyday conversation. Studying in an American institution helped me understand how the grad school works in the United States and opened doors for a future specialization in this country.
What was your biggest surprise?
The fact that professors are not only always open to questions and discussion, but they encourage their students to bring questions to class.
... your biggest disappointment?
I thought that I would be able to travel more while here, but the transportation system proved not as efficient as I expected and much more expensive than I could afford.
How have you handled:
... language differences?
The familiarity with the language increased with time and as I started to communicate more. Being friends with other international students helped a lot since speaking in English is the only way we can understand each other.
... finances?
I didn't have much trouble with money since my scholarship covers my basic necessities. Not spending too much too soon helped to keep things on track.
... adjusting to a different educational system?
It was tough at the beginning with the workload, classes that last only one hour, and less time to finish exams. I tried to not let myself stay behind in classes by reviewing the notes, looking for the professor when necessary and finishing my work before the deadlines. That worked well for me.
What are your activities?
I am part of the Asian Cultural Association with some other international friends, and used to participate in a weekly dance class.
How easy or difficult was making friends?
It was easy to make friends with other international students that were in the same situation as me than with Americans. The American students usually have their group of friends that they've known for a long time, which makes it difficult to get closer.
How relevant is your U.S. education to your personal goals and to the needs of your country?
I want to continue my studies in a grad school to get a master's degree and, if I have an opportunity, work in an industry as an analytical chemist or be a professor for high school and university levels. The companies in Brazil value an exchange experience as well as knowledge in English, so being able to have both can help me to get a good job.
What is your advice to other students who are considering a U.S. education?
If you have the opportunity, take it! Studying abroad is a great life experience itself and the United States has an incredible diversity to be experienced. Beyond that, there is a big difference in the way that Brazilian and American people see the importance of developing science, encouraging discussion and how the university is not only an environment to learn a profession, but also to develop yourself as a citizen. To be able to experience all these differences can definitely expand our vision about the world.