This glossary will help you understand the terms and language used to describe education in the U.S.A.
Academic counseling/advising: Students at U.S. universities and colleges are typically required to speak one-on-one with an academic counselor or advisor on a regular basis. Because students elect their own courses the advisor helps them to plan their academic calendars, ensuring that they are taking the classes they need to graduate.
Accreditation: The certification that a school or program has been granted after meeting a prescribed academic standard.
Advanced placement (AP): ®): Some universities and colleges give credit for class work done in high school, or to students who prove via examination that they have achieved university-level proficiency in a certain subject.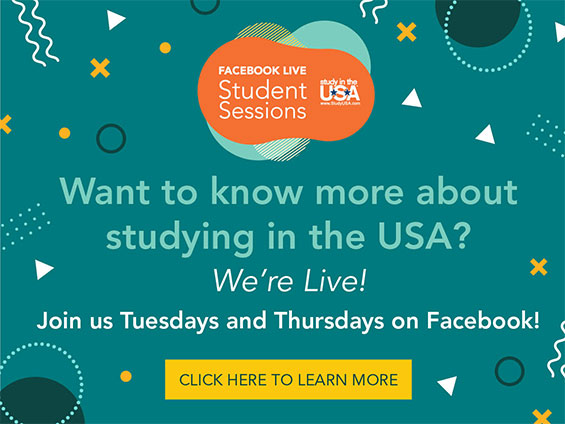 Campus:The location of a university, college, or school's main buildings. U.S. campuses are known for their ample size, architecture, landscaping, and numerous student locales.
Coeducational:An educational environment that includes students of both sexes.
Cooperative education: : A program in which students spend a portion of their time in a professional environment outside of the university.
Credits: Universities and colleges typically assign all courses a certain number of credits. Often the number of credits is equivalent to the number of hours spent in the given class each week.
Degrees: Awarded by universities and colleges upon completion of a program of study.
Associate's degree: Earned upon completion of a degree program at a two-year college.
Bachelor's degree: Earned upon completion of an undergraduate program, typically four years, at a college or university.
Master's and Doctorate degree: Earned upon completion of a graduate degree program.
Distance learning: Some universities and colleges offer courses which students can take off-campus, via a variety of means: Internet, CDs, DVDs, or cable television.
Dormitory: Also called "dorms," dormitories are living facilities designed to house students. A cafeteria is often located in the same building.
ESL: English as a Second Language; these courses teach English to people who speak other languages.
Faculty: The professors, teachers and lecturers of a university or college.
Freshman: First-year students at high schools, universities and colleges.
Homestay: A living arrangement that involves staying with an American family.
GPA (Grade Point Average): A numerical measure of academic achievement based upon a computation figured from the number of credits and grade points earned per course.
Homestay: A living arrangement that involves staying with an American family.
Honors college/classes: Some universities have an entire college or program dedicated to academically accomplished students who wish to take more challenging or accelerated courses.
Internship/intern: An arrangement by which a student works for a company for a limited period of time. Internships are typically unpaid.
Liberal arts: The study of humanities, arts and literature, language, and natural and physical sciences. Most U.S. universities and colleges offer an ample liberal arts program. Some schools are dedicated solely to the liberal arts.
Major: A college student's field of study. U.S. students typically declare their major at the end of their second (sophomore) year.
Room and board: Living facilities and food.
Tuition: The cost of attending a university or college. (Room and board costs are separate.) Tuition payments are typically required each quarter or semester. The amount may depend on the number of credits for which you are enrolled, as well as your status as a state resident or U.S. citizen.
Vocational college: An institution dedicated to teaching the skills necessary for a particular line of work or trade, such as electronics.
Work-study: Many students work part-time on campus and earn money toward their tuition costs. Do not be surprised to see many of your classmates working in campus facilities!