Read Study in the USA Latin America Magazine
Inside you'll find articles, interviews, tips and programs exclusively featured in the annual print editions of Study in the USA. It is the guide to education in the USA. Even better, there are e-magazines in multiple languages.
Want to take a hardcopy of a magazine home? Check local fairs, EducationUSA offices, advising centers, and embassies for copies.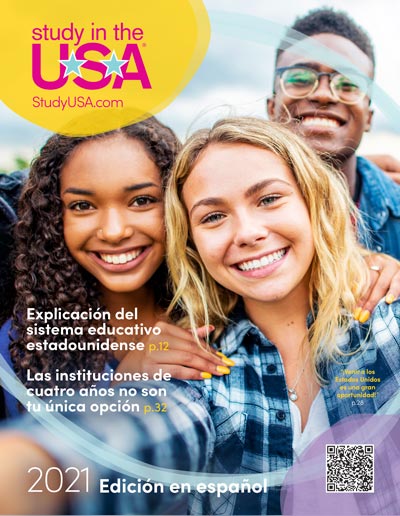 Written by
Study in the USA
Get matched to the best program for you
Let us know what you're looking for so we can find the best school for you.
$35,000—$40,000 Year
Bachelor Degree
Masters
Summer
$1,000—$5,000 Session
Masters
Online
Bachelor Degree
$5,000—$10,000 Year
English Programs
Bachelor Degree
2yr/Community College - 2+2 Programs
Typical cost per Session: $1,000—$5,000
Certificate/Short Term
Summer
English Programs
Typical cost per Year: $50,000—$60,000
Bachelor Degree
Secondary/Boarding
Summer
Typical cost per Semester: $1,000—$5,000
Bachelor Degree
Summer
English Programs
Start your U.S. adventure with Study in the USA
What's your dream? We can guide, advise, and connect you with your perfect U.S. school. We can also help you with the application process.
Partner Services
Learn About U.S. education financing, housing, and more
Uniplaces is an accommodation provider with a large choice of verified rooms, entire flats and residences. The platform offers an easy, fast and safe way of booking a place to live. Check out the thousands of properties in the best cities and book a...
BECOME SMARTER IN JUST 5 MINUTES. Get the daily email that makes reading the news actually enjoyable. Stay informed and entertained, for free.
campusSIMS helps students get connected with mobile phone service in the US. Get a US phone number while in your home country so you have service that's ready as soon as you land. Plans start as low as $15/month.
Testimonials
...It is a difficult and tiring process to find the ideal university and I felt that I was alone in that process but I could see through the Study in the USA Instagram account that I was not alone and that I could achieve my dreams.
Thaisa Mayer Jamunda Brazil
I think the rich database of schools has helped me find a lot of schools very fast.
It cleared many questions that I had prior and during my time here in the United States. The website was very helpful and detailed for things that we have no idea about and have to learn as we go.
Resources
Learn about American culture and education direct from our experts at Study in the USA. Read more