Read Study in the USA Chinese Magazine
Inside you'll find articles, interviews, tips and programs exclusively featured in the annual print editions of Study in the USA. It is the guide to education in the USA. Even better, there are e-magazines in multiple languages.
Want to take a hardcopy of a magazine home? Check local fairs, EducationUSA offices, advising centers, and embassies for copies.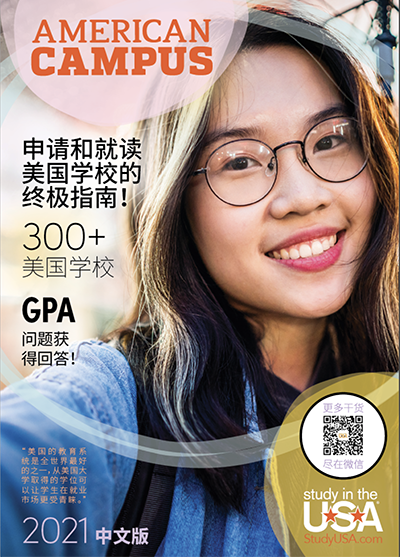 Written by
Study in the USA
Get matched to the best program for you
Let us know what you're looking for so we can find the best school for you.
$40,000—$45,000 Year
Bachelor Degree
Masters
English Programs
$5,000—$10,000 Semester
2yr/Community College - 2+2 Programs
English Programs
Bachelor Degree
$15,000—$20,000 Semester
Summer
Online
English Programs
Typical cost per Year: $10,000 — $15,000
Bachelor Degree
Masters
English Programs
Typical cost per Semester: $40,000—$45,000
Bachelor Degree
Masters
Online
Typical cost per Year: $30,000—$35,000
Start your U.S. adventure with Study in the USA
What's your dream? We can guide, advise, and connect you with your perfect U.S. school. We can also help you with the application process.
Partner Services
Learn About U.S. education financing, housing, and more
Ready to make your MBA dreams a reality? Register now for a virtual or in-person event with The MBA Tour! Don't miss your chance to speak directly with leading business schools, such as Harvard University, Boston University, Columbia University, UC...
MPOWER Financing is the top-rated lender offering international student loans without cosigners, collateral, or credit history for global citizens, PLUS international student scholarships & career coaching! Fully online application, 96% customer...
Study in the USA's advisors can work with you to navigate the requirements to study abroad in the USA, UK, Canada, and Australia. We help you find the right school and apply.
Testimonials
Thank you for your e-mail. I am already studying at Valencia College.
StudyUSA helped me prepare the right documents for the various interviews, and to know what to expect in terms of travel and navigating the American academic system.
I read the information found on StudyUSA.com and it helped me understand the process of applying in the USA. I have also talked to a StudyUSA counselor and she helped me with the things I struggle with like my essay for college application. StudyUSA give me the information I needed.
Resources
Learn about American culture and education direct from our experts at Study in the USA. Read more